Sprites - Dig Dug characters (Namco) - 2012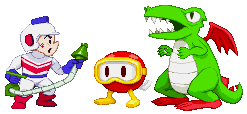 Scratch pixelart by James Beaver

I made the Pooka sprite in early 2012 as part of an old-school update for ScrollBoss. Dig Dug and Fygar were made in late 2012 for the second old-school update. Pooka and Dig Dug were made to look much like the original artwork, especially Dig Dug. Fygar's art looks so different from the in-game sprites that I took a shot at merging both the sprite and art designs. It took a lot of adjusting, but I hope its good enough so that Dig Dug fans can tell it's Fygar without being told.
Alternate Versions:


Content Tags:
namco
pixelart
videogames
Characters:
Dig Dug , Fygar , Pooka